2014
Christmas holiday Beach Clean on 28th Dec was much enjoyed on a sunny but chilly afternoon. We then piled into the happy atmosphere of The Beach Cafe for excellent mulled wine and mince pies and good conversation. Our thanks to Deidre, Tara, Adrian and Sean of The Beach Cafe for their generosity in providing this enjoyable conclusion to our year's activities.
Beach Clean September 21st as part of the Marine Conservation Society Nations wide Beach Clean weekend.
A great success. More than 35 people came.

This is only part of our collection as the council had taken some bags before we finished.
Rock Pooling in August 2014. Enjoyable and informative.
This year the sea spider, Nymphon gracile was our star find but plenty of other interesting finds and the great thing is that even the most common seashore inhabitants have amazing facts.
Specimen collecting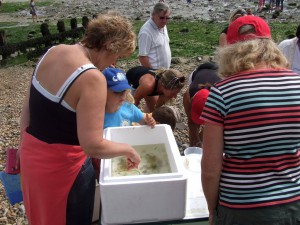 Boardwalk completed 2014
We now have a boardwalk complete from Shingle Road to Ferry Road This has been so successful in reducing trampling and enabling disabled access and helping families with buggies that the Adur-Worthing Council is planning to extend it to The Burrells.
History. FoSB petitioned in 2008-9 to try to improve safe, easy access across Shoreham Beach so that the shingle plants within Shoreham Local Nature Reserve are protected from being trampled and enabling access for everyone, in particular wheel chair users. It was opened at the end of December 2011 but with a gap in the middle due to disputed ownership of one stretch of beach. This gap was completed in April 2014.
JULY 20th 2014 PICNIC and Beach Clean was much enjoyed and 20 partially filled bags of litter collected..
FLOWER WALK 1st June, Shoreham Fort 2.30 pm followed by cream tea.
About 61 people came. The Starry Clover has flowered prolifically this year.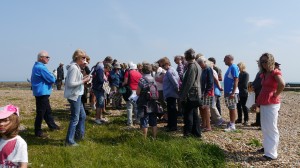 Beach Clean March 30th at Shoreham Fort. Altogether 32 bags of litter collected!
FoSB had a stall at the Bright Sparks family fun day on 15th February as part of the Brighton Science Festival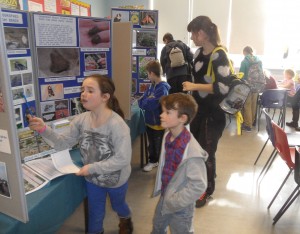 2013
Beach Clean December 27th 2013
Moth Surveys in June and September 2013
Tim Freed conducted Moth Surveys in June and September. He recorded 35 species in June and 66 in September. Among them he found 6 national rarities. The larvae of three of these feed on the Viper's Bugloss on the beach and the others on other shingle plants so our efforts to preserve the flowers on the beach are proving worthwhile! These surveys have been a very valuable piece of research contributing significantly to our knowledge of moth distribution in Sussex.
August Rock Pooling 2013 was a lovely day

Flower walk on June 9th 2013 followed by cream tea was much enjoyed and 40 people came.
Our stall at Shoreham Fort June 1st 2nd
Ray Egg Case Hunt April 4th 2013
The Friends found and identified 221 Ray egg cases. 97 Spotted Ray 68 Undulate Ray, 8 Thornback Ray, 1 Cuckoo Ray, 47 Dogfish
Got very cold and did some beach cleaning as well!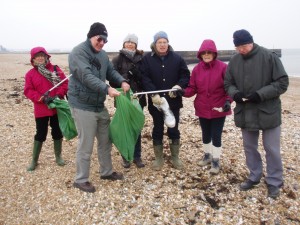 2012
AUGUST 10th 2012
We had a wonderful day at our Summer Event Rock- pooling at the Old Fort.

One of two large Shore crabs we found

Specimens were collected in these containers for identification

A juvenile Pipe Fish was found this year. It is a member of the sea horse family.

+WORLD OCEANS DAY in June 2012. Our stall was attended by many and our activities enjoyed.

Bees on the Beach and Bumble Bee Hotel Workshop was much enjoyed on 3rd April. We are monitoring some Bumble bees on the Beach and in gardens on the Beach Ring Joy for more information especially if you want to join the monitoring

For Bee Homes instructions click on the 81 in the latest news column which also gives more advice on helping bees.

We had a splendid Event on December 27th 2012

Beach Clean and Opening of the disabled access path.

After the well attended Beach Clean a large crowd gathered at the Ferry Road entrance to the boardwalks and after speeches by Councillor Simmonds,Joy Daintree and Alison Lapper, Alison opened the bow tying the red ribbon across the opening with Fred Waldron by her side.

Wheel chairs gather

Wheel chairs on the boardwalks and these include Father Christmas who paid a special visit with Captain Jack Sparrow because Adur Bath Tubs arranged the visit! Also thanks to Thunkshop Craft Shop at Ropetackle for the reindeer antlers.

or a masonry worm?

or a lugworm?

We saw a lovely large common Blenny (Shanny)and prawns

and Beadlet and Snakelock anenomes

Then we had a Beach Art Competition judged by a representative from Southern Water

One of the 4 winning entries

We looked after our creatures and made sure they had plenty of water and put them back in the sea. Before we put them back we found an anenome hiding in a mussel shell

2011

Flower Walk 5.6.11

Looking at Sea Kale

Photography lesson from Aaron Broadhouse on photographing a Yellow Horned Poppy
The bees on the Beach project started as part of the new 2010 education programme as a topic on bees and other invertebrates to link with school ground habitats.
Since then it has developed into a study of the insect pollinators present on the nature reserve and their plant/insect relationships but still retaining its links to the education programme.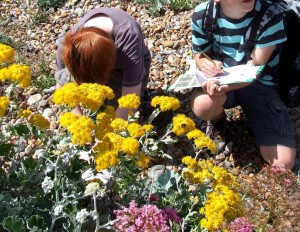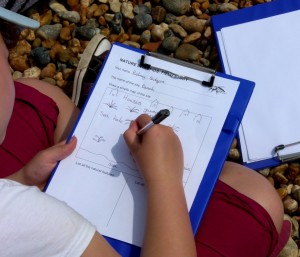 As part of a beach visit, schools could study the bees and other invertebrates on the LNR and follow up their visit by comparing the shingle beach habitat with their school grounds and compare bees etc in both habitats (species and flowers visited).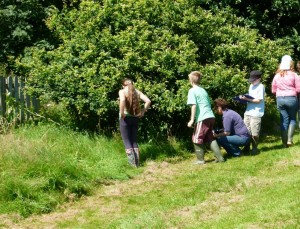 This would also provide the perfect opportunity to raise awareness about the decline of bees in general as well as the possible long term threat to vegetated shingle.
It is for this reason that we felt that we needed to understand the plant/ invertebrate relationships better as the potential threat to vegetated shingle by decline in bee populations was also echoed by other groups we contacted, such as the Bumble Bee Conservation Trust.
This was started in 2010 through surveys by specialist, members of the public and as part of organised educational visits. A outline of the pilot was provided for Adastra 2010, the journal produced each year the Sussex Biodiversity Record Centre.
Bees on the Beach Project: Aims
Build up a profile for each flowering shingle plant species and the insect pollinators that visit them (to eventually include bees, hoverflies,butterflies, moths,beetles etc).
Due to vegetated shingle being only a partial habitat for bees, (limited nesting sites and hibernation opportunities) in this project we are also planning to study the potential of adjacent gardens to support bee species.
This will include; nectar/pollen sources, especially outside of the shingle plant flowering period, potential nest sites and also hibernation sites. We will alos investiogate the possibility of artificial nest sites – especially for solitary bee species.
The beach gardens may prove to be an important factor in keeping a healthy bee population on Shoreham Beach.