There are many opportunities for schools to use the Shoreham Beach site to enhance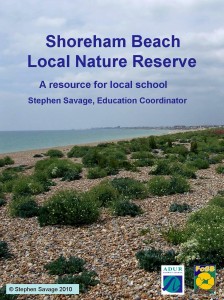 local studies or to give a local dimension to a topic. The education programme can be used in three main ways; a teacher led site visit, a guided site visit, or an outreach visit to your school.
This Education page includes examples of activities and projects that we can provide for schools and information on how to plan and book a session.
Topics include science, geography and history. These can be approached as a single subject area or as a cross curriculum project.
Topics and activities are available for both primary and secondary schools. Many of the topics included in the education programme have been developed with the input of local teachers.
Our education coordinator is a biologist, natural history author and environmental educator. He has over 30 years of experience working with local schools.
For futher information about our education programme please contact Stephen Savage, Education Coordinator on stevep.savage@ntlworld.com
Please contact stevep.savage@ntlworld.com if you would like to be added to our list of schools who receive an annual update on the Shoreham Beach Local Nature Reserve and education programme.
Click the link below for a pdf document of our Education Programme for

primary, secondary and other youth groups.
Teacher workshops and conferences
The CPD Teacher Training on 25th May 2017 was a great success. This coastal workshop explored opportunities for teaching
Science and Coastal Geography including case studies from our programme at Shoreham. Look out for our event report coming soon.

We ran our first Teachers Conference and workshops on 25th June 2015

at Shoreham Adur Activity Centre and Shoreham Beach Local Nature Reserve, click link for Conference overview and feedback 2015 Marine Day Conference feedback The event was successfully repeated 13th May with a change of indoor venue using the nearby Harbour Club.
…………………………..
SHOREHAM BEACH LOCAL NATURE RESERVE VISIT
Our general beach visit, for KS2 and above, provides an opportunity to explore three main areas, science, coastal geography and maritime history. The aim of field trip sessions is to provide the children guidance to enhance the visit and to provide experiences to take away and build upon back in the classroom.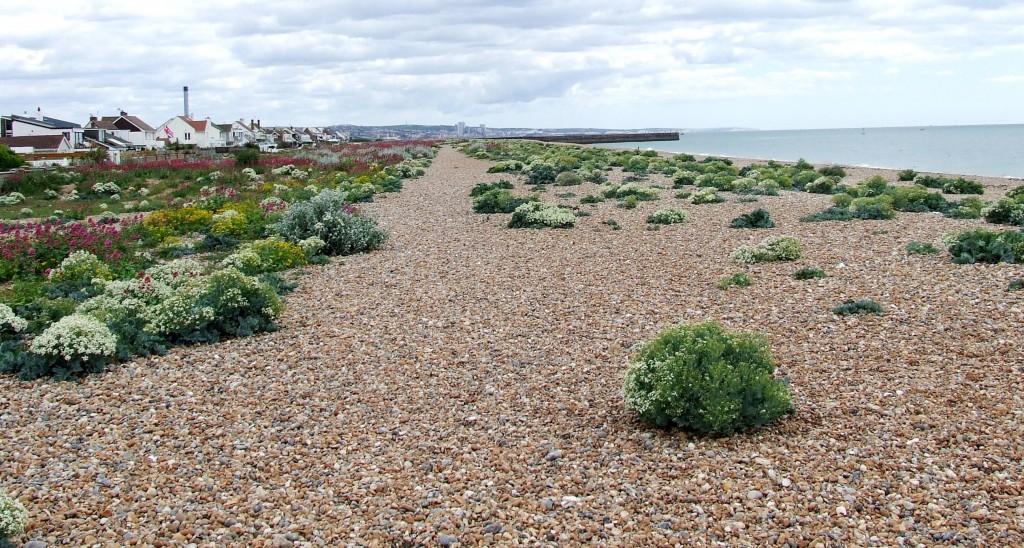 In 2006 Shoreham beach was designated a Local Nature Reserve due to the large areas of vegetated shingle growing on the beach. Vegetated shingle habitat is not only rare in the UK, but worldwide is only found in 2 other countries Japan and New Zealand. In turn, the vegetated shingle provides a habitat for a wide range of terrestrial birds and invertebrates. Practical activities include the following.
1. Exploration of the shingle plants and the special adaptations that allow them to survive in this harsh environment.
2. Terrestrial birds and invertebrates that visit vegetated shingle habitat.
3. Marine and coastal birds.
4. The seashore strandline and the clues they provide about life in the sea.
5. Threats to Shoreham Beach, local and global.
6. Tide pool exploration (tide dependant) see more details below in 'Other Sessions You Can Choose From'
7. Coastal Processes, Sea Defence and conservation issues.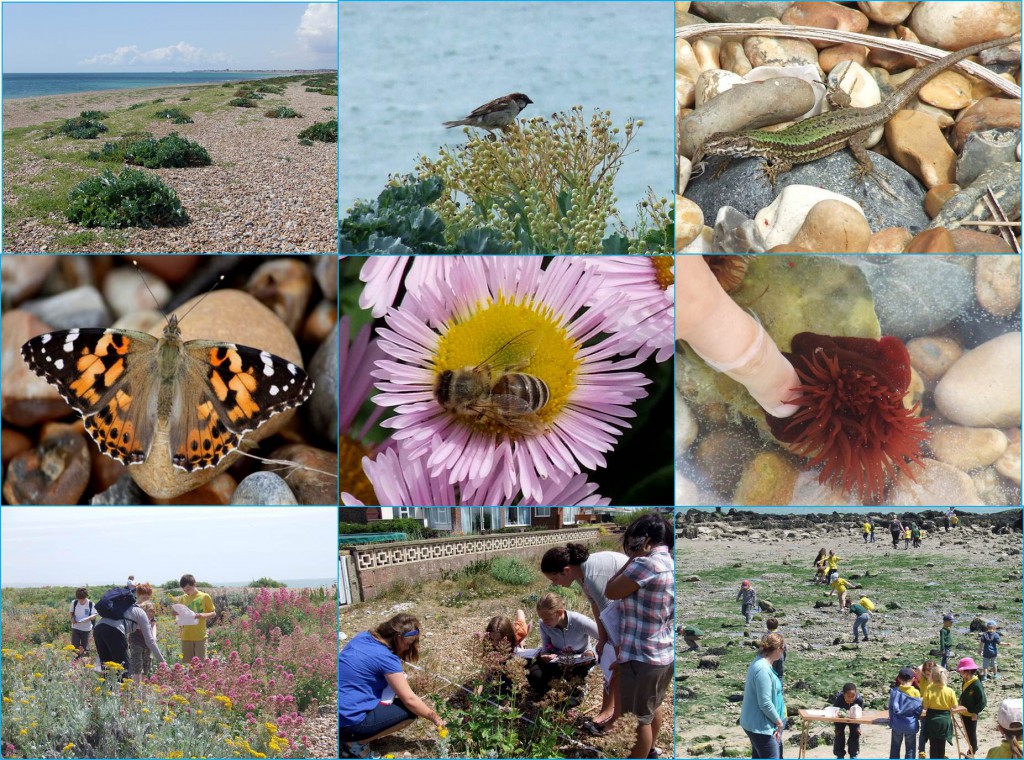 NEW AMAZING PLANTS Due to an increase in requests from teachers who are keen to make plants their focus, we have developed a new plant session. The request came from teachers who were keen to make their plant topic more interesting and inspiring for the children. We look at three type of plants; estuary plants, sea weeds and vegetated shingle.

A major focus is plant adaptation based around the physical features of plants. We consider the things a typical plant would need to survive and then look at the special adaptation the shingle plants have that allow them to thrive in this harsh environment. The children will also use a simple ID guide to identity some of the plants. Vegetated shingle is also home a variety of invertebrates, some important pollinators and bird species.The investigation can be continued back in the school grounds
COASTAL GEOGRAPHY Coastal geography focusing on how the beach was formed and shaped by nature. Today, over 90% of the pebbles on local beaches are flint, in various forms and stages of erosion. These pebbles have made a fascinating journey starting with their creation in the Cretaceous period and many were washed from the eroding chalk during the end of the last ice age when melt water created the river valleys we know today. Some of the flint has eroded from the chalk more recently. Some non-flint pebbles have been deposited on the beach after being used as ships ballast.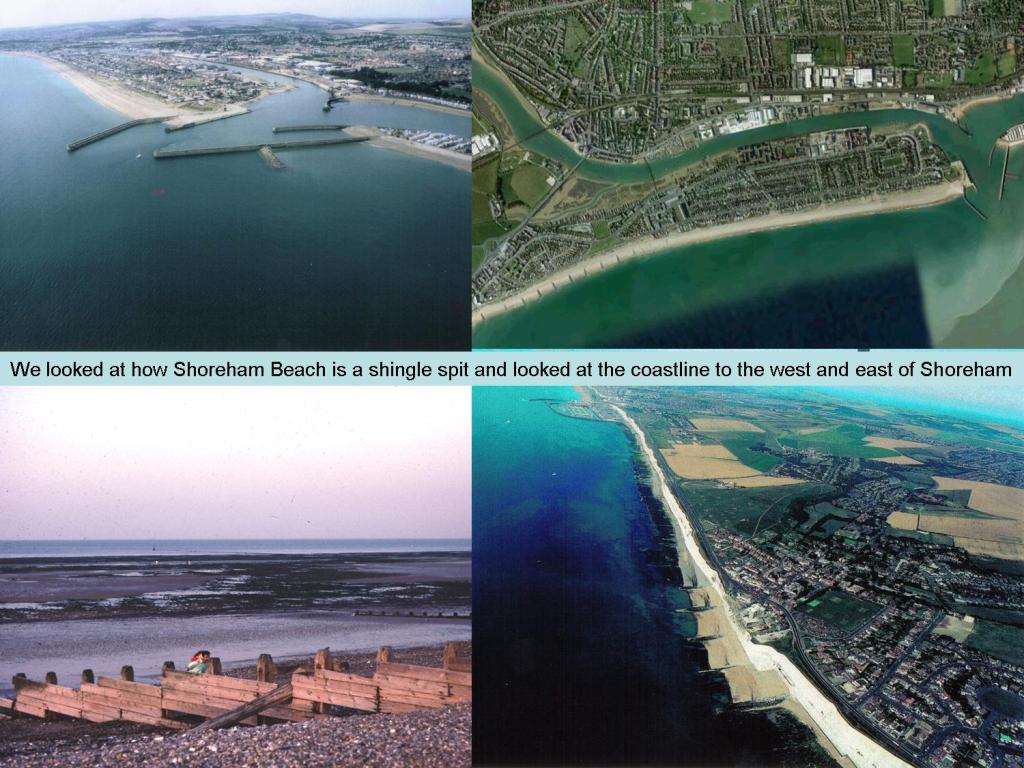 Practical activities include the following.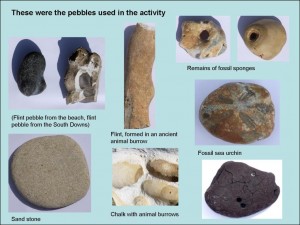 1. Physical forces that shape the beach (e.g. coastal erosion, longshore drift)
2. Recording environmental conditions (beaufort scale) including weather, wave type and tides.
3. Exploring the pebbles that make up Shoreham Beach.
4. Sea defences
5. Uses of our coastline past and present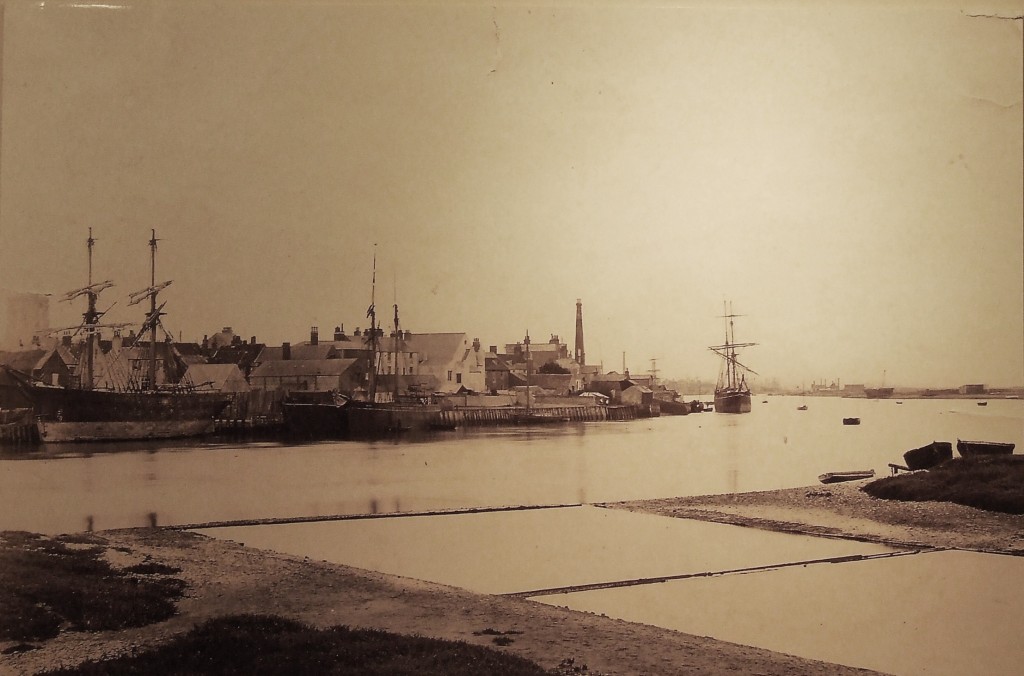 MARITIME HISTORY Shoreham has a fascinating maritime history, due to its importance as a sea port and as a centre for ship building. Some of the ships were built at Shoreham for trade while other battle ships took part in famous campaigns, such as the 100 year war against France and the Spanish Armada or defended the coast against pirates.
In fact, until recently Shoreham was far more important than its seaside neighbour Brighton, a small fishing village until the seaside was made popular by the Victorians and the travel was made easy by the advent of the railway. Shoreham Beach was first colonised back in the 1900's, called bungalow town, which included a world famous film studio.
RIVER AND SEA Shoreham also provides a unique opportunity for schools to study the river and sea as one system. This can be made up of different elements of our education programme, covered on this web page.
BEES ON THE BEACH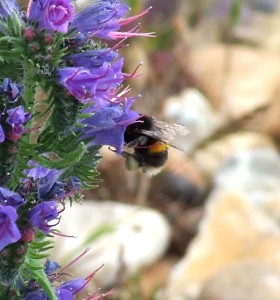 As part of a visit to the nature reserve you can take part in a special study called Bees on the Beach. The project aims to identify bees and other insect pollinators that are essential to the flowering species, (which plants each is associated with) that help make up the vegetated shingle habitat.
Recording bees on the beach can also make a great comparison between the harsh beach environment and the bees present in your own school grounds. A project for schools that also collects valuable data for our study. https://www.fosbeach.com/bees-on-the-beach-project/
SHOREHAM BEACH LOCAL NATURE RESERVE STUDY (Secondary schools)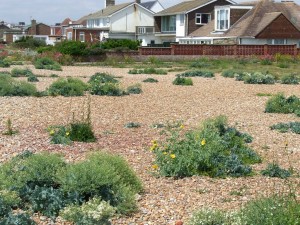 Shoreham Beach was made a nature reserve 2006 to protect and enhance the rare and unusual vegetated shingle habitat. Discover what a nature reserve does and how we work to preserve the vegetated shingle while at the same time attracting people to appreciate this valuable habitat. What natural and human activities threaten this habitat? Who uses the beach and how do we balance the needs of the community with the task of protecting the beach ecology. What global issues may potentially threaten the beach? This session can include other practical sessions discussed above, such as plant transect surveys, coastal bee project etc.
COASTAL PROTECTION, COASTAL PROCESSES AND BEACH PROFILES (Secondary schools)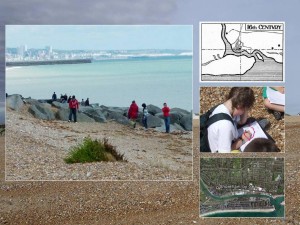 A practical session for GCSE students. We have supported several local GCSE classes with a coastal study of Shoreham. The shingle beach provides excellent opportunities for beach profiling and studying coastal processes.
Local knowledge and Environmental data has helped students to study the beach with a local context and also historical information about coastal development and protection, as well as current and future flooding. Students can also study impact of human activities on the rare vegetated shingle habitat
………………………………………………………………………………………………………….
INVESTIGATING THE INTERTIDAL SEASHORE LIFE (All year groups)
There are two possible sessions available, a visit to the beach or an outreach visit.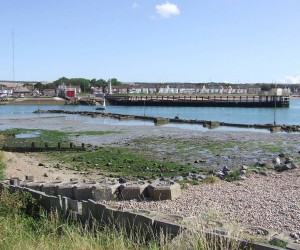 There are two beaches that we use for school visits because of the abundance of wildlife and being safe beaches for children to explore. The format of this session is an introduction to the beach and tides.
We will also discuss the marine life and how it has adapted to the beach habitat. Pupils will have the opportunity to explore the beach and a few examples of wildlife will be collected and housed in small tanks for a group discussion at the end of the day.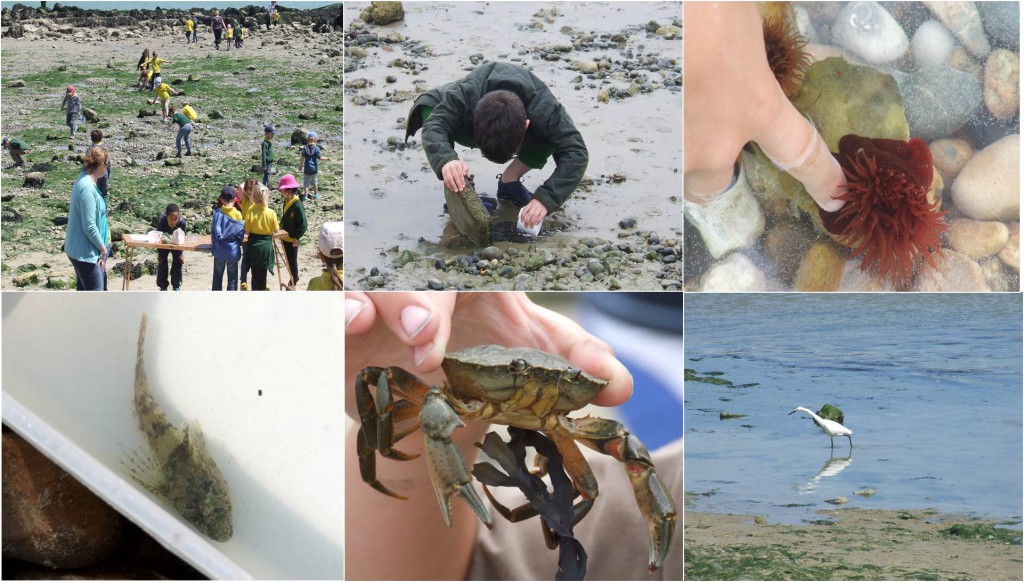 Both sites also provide opportunities to see coastal birds such as terns, turnstones, cormorant and little egret.
OUTREACH PROGRAMME
We recognise that not all schools can visit the beach either because of the children's age or travel challenges. We have several that come under the themes of "bringing the excitement of the seashore into the classroom". These sessions have been designed specifically for schools wishing to include a local dimension to a topic and these can be tailored to your needs and contain a mixture of the topics mentioned above delivered at the nature reserve. Such topics include a general over of Shoreham Beach Local Nature Reserve but can also include varied topics such as Shoreham maritime History, coastal habitats, or seashore invertebrates, see below).
OUTREACH PROGRAMME: PREVISIT Outreach sessions like the one mentioned above can also be used as a preparation for a teacher led beach visit. These sessions provide a structure for both children and teachers to follow on their beach visit.
OUTREACH SESSION: SEA LIFE IN THE CLASSROOM (All year groups)
This session has been developed to allow children the chance to observe and study seashore life in the classroom. Using a digital microscope and media projector, the session takes the form of a living lecture as the class will be able to see live marine invertebrates projected onto the whiteboard.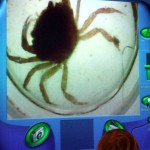 The pupils will be able to observe sea anemones opening their tentacles, barnacles feeding, crabs scuttling sideways, marine worms, crustaceans and sea snails (depending on specimens collected). Through first hand observation, the pupils will experience live marine creatures and guided and encouraged to compare life processes, locomotion, defence and adaptation to a rock pool habitat.
Sessions are supported by an introductory PowerPoint about the Sussex Coastline and activities (depending on age range).
This session could also be used in as preparation for a teacher led beach visit. These classroom sessions providing and introduction tom the beach they will visit, the marine life, include facts and information. This can provide a framework for both children and teachers as guidance to investigation on their beach visit. An alternative session compares the habitat and wildlife of a pond and a rock pool. The session works best for schools who have a pond and can study the wildlife present.
OCEAN LITERACY
All life including our own depends on the ocean, a dynamic and diverse ecosystem that supports a rich diversity of marine life and powers many of the earth natural cycles. The following project is based on the Ocean Literacy principles and helps schools explore the oceans from a local as well as global perspective. An explanation of ocean literacy, and how our One Ocean Programme links to Ocean Literacy Principles can be found on the following link. Ocean Literacy and ROV Project 2015
OUTREACH SESSION: ONE WORLD ONE OCEAN – THE ADVENTURES OF ED THE BEAR (KS1 & KS2) Creating links with scientists around the world Ed the Bear discovers that his local beach at Shoreham is threatened by climate change. As his beach is also a site for rare vegetated shingle, he finds is very concerned. To find out more about how this and other global problems may threaten his beach, Ed goes on a voyage of discovery. He visits many scientists to learn more about the ocean and its wildlife as well as how we are connected to the global ocean.

This project looks at the local as well as its links to the global. The adventures of Ed the Bear is a factual story seen through the eyes of a fictional character. The journey is a celebration of the ocean as Ed the Bear encounters amazing wildlife and learns about the many ways we benefit from the ocean. This includes how the ocean moderates and influence out climate and weather, provide freshwater, 50% of our oxygen, food, new medicines, wellbeing and much more.
Ed the bear has his own diving bell built by Ed Williams through NOAA. He has dived on coral reefs and ship wrecks. He has sat on the polar ice with penguins and come face to face with great white sharks and much more. Each step of his on going journey helps to build the knowledge Ed the Bear has to share with schools and the public.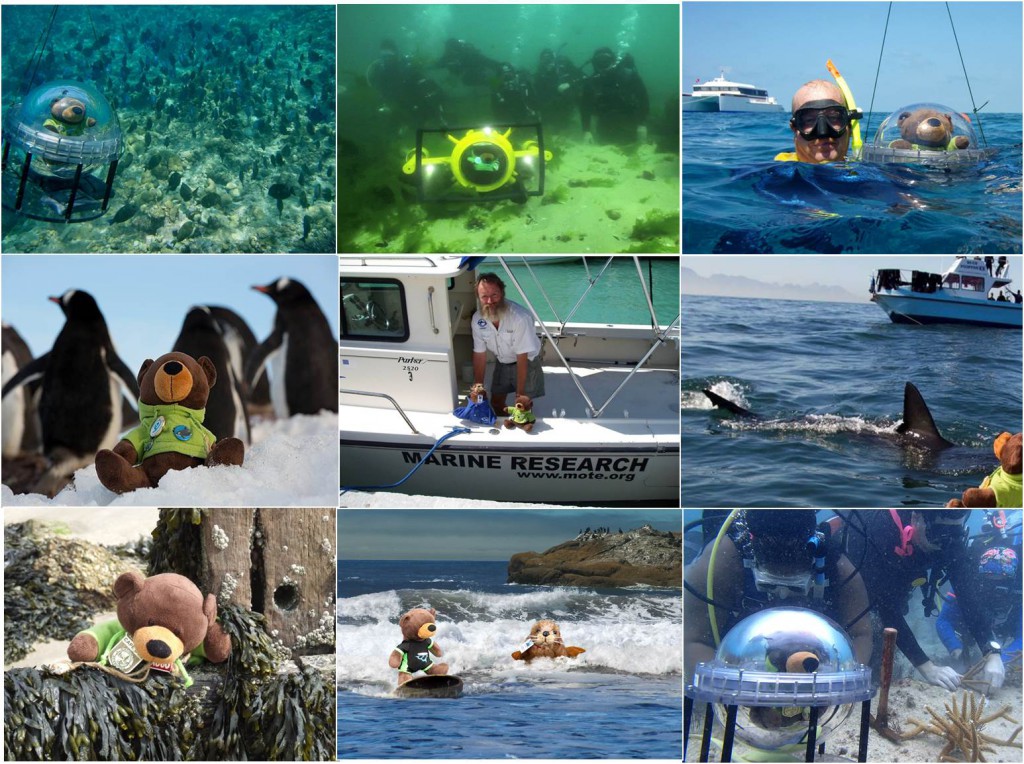 Please click the link below for a document explaining more about the programme and how it can be used by schools
Adventures of Ed the Bear explained 2013 update with Bella
Ed the Bear witnesses first hand some of the damage are doing to the ocean and has also visited people around the world who are helping to save the oceans and its wildlife. He has made contact with different places, people and wildlife. He has learned how we can all help by making small changes to the way we live. So when Ed is visiting schools and events, he encourages the children to think about how they can do things differently (e.g. turn off lights and computers when not in use, reusing, recycling) that together will make a big difference.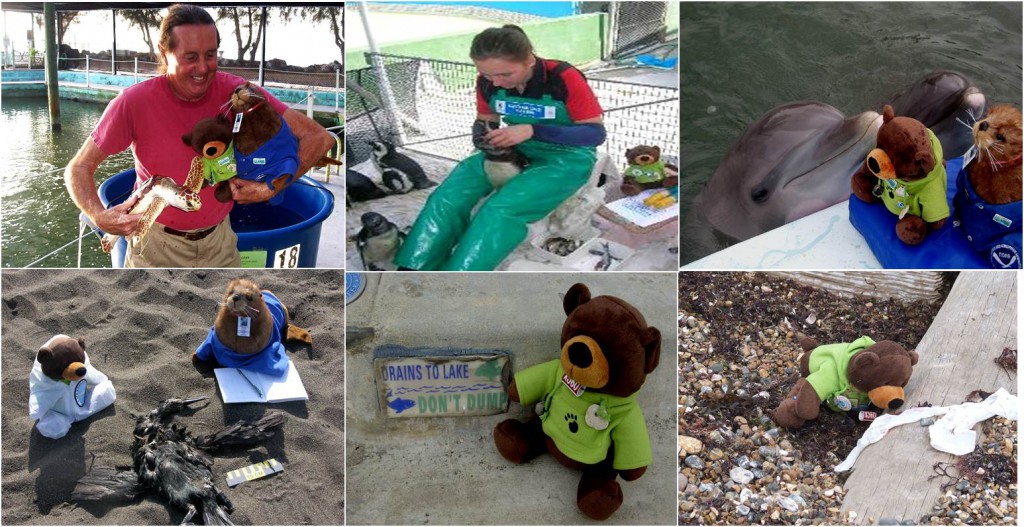 However, we can all help by making small changes to the way we live. So when Ed is visiting schools and events, he encourages the children to think about how they can do things differently (e.g. turn off lights and computers when not in use) that together will make a big difference. The Adventures of Ed the Bear can be enjoyed as a cross curriculum project about the oceans, as a separate project or to support sustainability topics.
CROSS CURRICULUM
The project can include art and literacy as well as explore themes relating to citizenship and sense of place. An outreach visit to your school will be tailored to include selected themes, illustrated by Ed's travels and classroom activities. Schools can also contribute to a new weblog called The Friends of Ed the Bear, using the class bear to provide a web entry about their local beach or the sustainability work they are doing in school.
You can also find out more about this project at http://adventuresofedthebear.blogspot.com/
The web link below links to a session provided for the West Sussex Gifted and Talented Programme and provides an example of themes and activities that can be covered in an outreach session. http://adventuresofedthebear.blogspot.com/2011/01/teaching-children-about-oceans.html
ONE WORLD ONE OCEAN KS3 AND ABOVE We can also provide an outreach session for secondary schools and above looking at the global ocean, biodiversity, conservation threats and the link to sustainable living. (including climate change, ocean acidification and marine litter)
MORE OUTREACH
SEASHORE STRANDLINE This is a great topic for schools who are unable to visit the beach because of age range or distance. The focus of the session is a selection of objects cast up on the beach and what we can learn about the wildlife that lives around our shores. The session includes quiz and hand on elements and focuses on things we can learn about the wildlife around our coasts based around objects cast onto the beach such as shells, egg cases and seashells.

This session is supported by a PowerPoint about the Sussex coastline and marine life. Additional activities focus on marine and terrestrial scavengers that visit the strandline, marine plastic debris and myths and folklore surrounding the strandline.
SUSSEX SEA MAMMALS This session looks at local sea mammals including dolphins that can be seen off the coast in the summer and seals that visit the coast and the River Adur. This session looks at their natural history, adaptations and local sightings.
Both bottlenose dolphin and common seal are threatened species and the session looks at why they are threatened and the wider conservation issues.

This session can include a dolphin rescue demonstration with child participation (depending on size of groups). The children will discover why dolphins become stranded, what you need to do to help a stranded dolphin and how a dolphins adaptations work against a dolphin when it becomes stranded.
The session is supported by photographs taken in Sussex waters (including Shoreham), a life sized inflatable bottlenose dolphin. The tutor has been monitoring local sea mammals since 1991 for the Sea Watch Foundation For more information about our education programme, or to book a session, please contact Stephen Savage, Education Coordinator. stevep.savage@ntlworld.com