We have surveys of our LNR insect population. They include two moths surveys by Tim Freed, a small insect survey by Peter Hodges and a comprehensive survey of the LNR insects by Graeme Lyons in 2018.
Graeme found 248 species and over 10% were of conservation importance. Since then he has found another insect of conservation importance.
Many insects or their larvae can only feed on one species of plant so if the plant goes the insect disappears also. Hence the importance of protecting the LNR from degrading.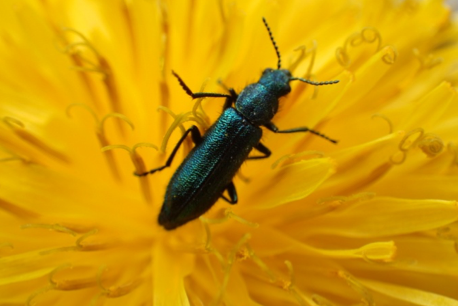 Psilothrix viridicoeruleus is a widespread beetle found across the site but local and coastal in Sussex. It can be found feeding in yellow composite flowers in early summer and spring. (photo: Graeme Lyons ).
It seems that there were Common Lizards on the LNR in the past. However, in the 1970s, Italian Wall Lizards escaped from a house on the foreshore.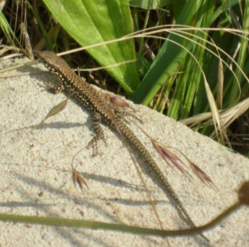 Telling the two species apart is not always easy and is most accurately done by examining their scales. Hence the amateur reports of Common Lizards cannot be relied upon. Graeme Lyons saw only Wall Lizards doing his insect survey. So it is probable that the Common Lizards are no longer present.