3rd Hove Rainbows visit Shoreham Beach
Last week, on a beautiful warm, sunny evening Hove Rainbows and their helpers came to visit Shoreham Beach  as part of their Understanding the Seashore badge and as part of our TUTT initiative.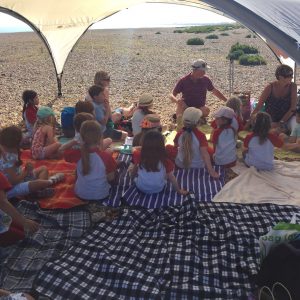 They set up camp by the Western Arm and after an introduction from FoSb about the plants on the beach and how they have to survive lack of water and soil, winds and waste, the Rainbows set off with a check list and plant spotter guides to find as many different beach dwelling plants as they could.
Many were excited to find Starry Clover and the winning group spotted 15 different plants in the search time. Both adults and children had a great time and were a delight to introduce to the beach.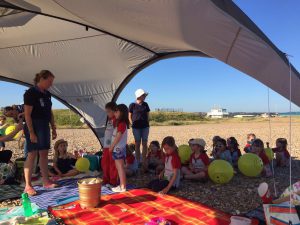 They stayed for a picnic and presentations,  some of the girls were moving up to the Brownies and one of the Leaders was leaving, so the beach made a wonderful backdrop for the goodbyes.
More Photos may be found in the Hove Rainbows 2016 gallery