FoSB represented at Shoreham Beach Neighbourhood Plan Meetings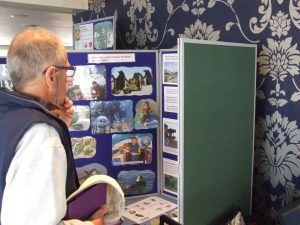 Representing Friends of Shoreham Beach, Steve Savage our supportive Marine Biologist, took a display along to the Shoreham Beach Education Forum Event. The aim of the event was to get views from beach residents about what they would like to see included in their neighbourhood plan for Shoreham Beach. http://www.shorehambeachforum.com/
This provided a good opportunity to share our message with the beach residents and hopefully influence their thoughts about content of the neighbourhood plan
The display was in two parts, information aimed largely at adults and information/activities aimed at children. Some elements also applied to both.
For adults the information included information about why Shoreham Beach is a nature reserve, why it's special, information about the flora, fauna and how people impact the beach. The information also included how the beach gardens are an extension of the nature Reserve. No habitat exists in isolation and relies on the connections between surrounding green spaces. I discussed how gardens could have a positive effect on the nature reserve.
The information display also looked at how Shoreham Beach was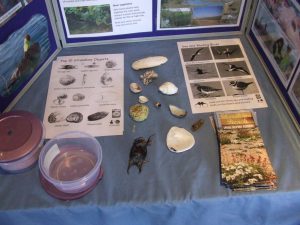 formed by dynamic processes which still shape the beach today, the importance of estuaries as feeding and nursery grounds for marine life and also some of the seals that we have seen visiting Shoreham beach and the Adur Estuary. There was also information about FoSB and FoSB events
The display also looked at Shoreham Beach and how negative effects and local implications from global issues. Using Ed the Bear and the One Ocean project – explained how ocean system work, how they create and moderate out climate, weather, freshwater, produce 50% of our oxygen etc. Also how man-made climate change (melting ice caps, ocean thermo-expansion etc) is (for example) raising sea levels resulting in the need to raise our river defences to protect against future flooding – a local consequence to a global issue. I had an interesting chat with the representative from Environment Agency about the possibility of creating a link between their river defence work and Ed Bear Global perspective. We also explored plastic pollution and the FoSB beach clean programme.
The display included a flat screen with two laptops and two usb microscope cams – showing views in a small aquarium tank with some rock pool creatures collected from the beach. With this set up it was easy to swop between displays, showing two different animals on the flat screen , something which proved extremely popular with both adults and children.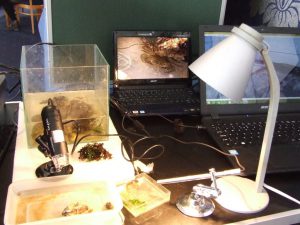 There were also some plastic pollution activities for the children and two fact sheets available, the first referring to the Strandline Objects washed up on the beach (also linked to a collection of objects displayed) and a second sheet on Sea and Wading birds.
Steve was fully occupied with many different questions from the people visiting the event. Particularly with reference to FoSB membership, the Rock Pooling events FoSB have run, with Steve's help, over this year and the other education initiatives both he and FoSB have been involved in.
Some more photos of the event can be found in the Gallery SBNF Oct2016