Tim Loughton MP unveils FoSB Information Boards
On a bright and breezy October 22nd, Tim Loughton MP did us the honour of unveiling the new and refurbished Nature Reserve Information Boards the FoSB have funded through the Lottery.
A group of Friends and residents, met at the Shoreham Fort Information Board to symbolically unveil all seven of the Boards, now in place on the beach
Following a introduction and history of the Local Nature Reserve by Joy Daintree, FoSB's Chairman, in which she recounted the difference that being a Nature Reserve has made to the beach in keeping household dumping down and encouraging the mass of wild flowers, both common and rare we find there today. The Information Boards, she added, were ther to tell visitors, new and old about the Beach and encourage the need to care for this fragile environment.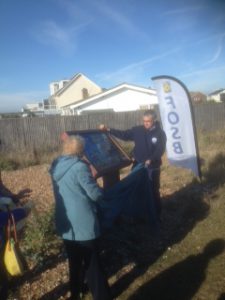 Tim then added his own words about the changes in the beach and thanked FoSB, FoSF and the Shoreham Beach Residents Association for their continued work in looking after the beach  and, with a flourish unveiled The Fort Board.
Photos followed for the Shoreham Herald and tea and coffee was served from Helena's campervan. The full report will be in the Herald this coming week.http://www.shorehamherald.co.uk
http://www.shorehamherald.co.uk/news/mp-set-to-unveil-beach-information-boards-1-7616740