Winter Beach Clean Dec 2016: Big turnout!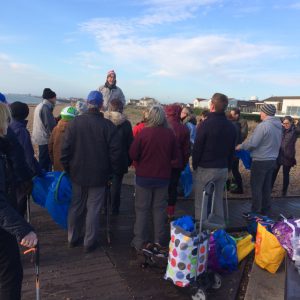 A breezy and cool December day, saw 50 plus old and new friends and families gather at Ferry Rd. Beach entrance for our Annual Winter Beach Clean. There were sufficient volunteers to clean the beach east of Ferry Road as far as the Beach Huts and west as far as Shingle Rd and whilst we cleared 40+ sacks of rubbish from this area of the beach, the bags were relatively light. The majority of the rubbish consisted of plastic bottles and boxes, large amounts of string and fishing line caught in the sea-wed of the tidelines and unidentifiable plastic items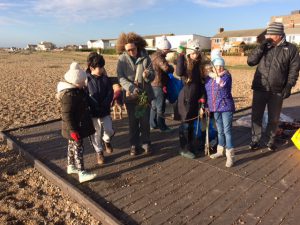 .
Triss Storey won the" weirdest thing found" competition for the children with a massive iron hoop with netting attached that had presumable come from an old purse-net.
Unfortunately, we found two used hypodermic syringes, which were double bagged and separated from the main detritus. This is a rarity on Shoreham Beach and we hope does not indicate a coming threat.
At the end of the Clean, those in need of warming, repaired to the Beach Cafe in Ferry Rd.,where, once again, the staff kindly warmed mulled wine and mince pies for everyone.
It was great to see so many people helping with the beach clean and to meet new faces. Our next event will be the Keep Britain Tidy  Spring Beach clean in March. Watch this space!!